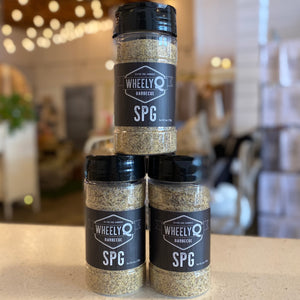 WheelyQue
WheelyQue SPG Seasoning
Regular price
$5.99
$0.00
SPG is the most versatile seasoning that every kitchen needs! Everyone will enjoy the balance of flavor because salt, pepper, and garlic are the basic ingredients found in all great BBQ rubs.
Season steak, chicken, pork, or fish and be amazed at how this simple blend will enhance the flavor of any dish!
Sprinkle onto corn, veggies, french fries, or popcorn to take your favorite side dish or snack to the next level!
Each bottle of SPG contains 6oz worth of seasoning.
INGREDIENTS: Sea Salt, Granulated Garlic & Pepper.
---
More from this collection